My ToS Fundraiser for Parkinson's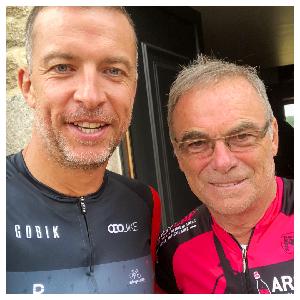 I'm riding in the greatest grand tour of a mythical nation in the world to help people with Parkinson's live well today. Your donation to my fundraising page not only will encourage me to train harder and ride faster, but will help expand the Davis Phinney Foundation's important work and programming.
CLOSED MON 22 FEB 09:00 GMT+1 *** BERNARD HINAULT SIGNED REPLICA 1978 YELLOW JERSEY ***
One of my great pleasures in life is to ride with the great man himself whenever I get back to Brittany, my native homeland.
To help raise money for the Davis Phinney Foundation, I asked Bernard if he would sign this replica jersey for me so I could give it away during the Tour.
When the Tour is over, I will pick a winner at random* (postage fees are on me).
For every $10 USD you donated, you get a chance
(so if you helped me fundraise $10, you have one chance. If you gave $20, you get 2 chances etc...)
* Full disclaimer: as this is a private fundraising effort, I'm opening this prize to anyone who donates, be it friends, family, work colleagues or fellow Sufferlandrians. I will organise a proper draw with an innocent hand picking the winner.
*** MY TOS2021 "A VISUAL JOURNEY" PROJECT ***
As the Tour goes on, I'm taking a bit of time after each stage to work on a SUF-inspired collage work on Photoshop…
It's setup as A1 in size (60x84cm).
As I train, keeping a visual journal like this (either real painting or virtual) helps me stay on track and motivated. It also is a great way for me to remember and reminisce on some of the stuff I've trained for when I look at them hanging on my paincave wall since, oddly, my family won't let me hang them in the sitting room :smiley:
Anyone who has donated $20 or more will receive a high-res copy of the artwork after the Tour ends
Progress visible at: https://forum.thesufferfest.com/t/tos2021-fundraiser-a-visual-journal-project/8416/14

Thank you so much, I truly appreciate your support!

Sincerely,
A Sufferlandrian riding for honor, glory, and to help people with Parkinson's live well!


View More
Achievements

I DONATED
I made a donation to my fundraiser!
Fundraising Honor Roll
Mr. Leslie Thomas Reissner
$100
Ms. Teresa Schreitmueller
$50
The Sufferfest's Tour of Sufferlandria event supports the Davis Phinney Foundation for Parkinson's. The Davis Phinney Foundation, a US-based non profit, helps people with Parkinson's live well today. Learn more at www.dpf.org.
If you think this page contains objectionable content, please inform the system administrator.