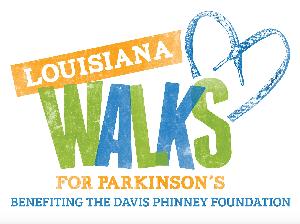 Team LA Walks
Louisiana is STILL walking for Parkinson's this year!
While the Louisiana Walks for Parkinson's is cancelled this year, we are participating in the Every Victory Counts Challenge to stay active and connected this summer. You can join us as a participant or support one of our teammates with a donation as we work to reach our goal together - making every victory count and raising important funds that change lives and help people with Parkinson's live well.
We're each committing to a personal challenge - riding, running, walking or moving during the month of July. Join us!

Thank you so much, we couldn't do it without you.
Michelle and Susan

View More

Achievements

Top Team
This team is killing it. Top Team milestone UNLOCKED for raising $3000 or more! Boo Yah!
Team Honor Roll
Summer Storm LLC DBA Home Instead Senior Care
$500
Baudry Therap Center
$425
Nations Loan Services LLC
$150
Baudry Therapy Center | BRIO
$75
Facebook Donor Facebook Donor
$50
Recent Donors
Acorda
Facebook Donor
Wesley Breeden
David Deibel
Summer Storm LLC DBA Home Instead Senior Care